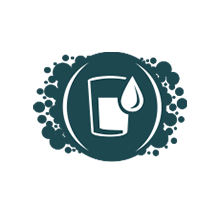 We plan, assemble and deliver water treatment stations and all plastic piping and ventilation.
Industry
Watch industry
Ateliers galvano
Public buildings
For private persons
Water Softeners
Combined installations
Simple installations VAS 10 – VAS 60
Double installations VAD 10 – VAD 300
Combined installation VAK 4 – VAK 30 of 16-120m3 1 ° dH German hardness. With centralized control including all necessary valves. The exchanger column is made of PE reinforced with glass wool. The control is mechanical or electronic.
Reverse osmosis stations
Fully automated systems for the production of pure water
No use of regeneration chemicals
No wastewater treatment is required
Automatic Quality Monitoring
Ready to be mounted on a chassis.
For the treatment of wells, product, process, cooling water, boiler water for industry, trade, hospitals and laboratories.
Exchanger installations
The latter are used for the treatment of water intended for chemical or industrial operations, for example the closed circuit rinsing water in the Galvano workshops, or for the recovery of certain cations and anions. These installations can be supplemented with activated carbon filters, quartz / sand filters, continuous UV disinfection …

Detoxification and neutralization by charge and continuous
Treatment of waste water containing or not heavy metals. Treatments by load, neutralization, filtration by filter press, police filter, up to the sewer according to the legal norms. Discussions and approval of systems with authorities

Neutralization by filtration and post-cleaning
Treatment of degreasing baths and activation, various baths without heavy metals and others. Manual or automatic control, with pH-final data recording for authorities.
Total and partial demineralisation plants
For the fully automatic production of water having the qualities required for laboratory, manufacturing or other applications.
These facilities may include:
Manual or automatic regeneration
Raw water and buffer of treated water
Automatic or manual conditioning step
Police Filters
Installations for treating waste water after the filter press are used to eliminate traces of metals (even complexed), such as nickel, copper and zinc, by ion exchange. These installations can operate entirely manually or automatically.
Filtration 
Effluent filtration with cartridge pumps or tray pumps. Filtration of chips, separation of precious metals in oils or washing waters. Representation of the SIEBEC brand.
UV-irradiation
Ultraviolet disinfection systems against bacteria and bacterial contamination of water from the galvanic process or washing.
Treatment of drinking water
Installation of water softeners for family houses
Increased pressure
To distribute desalinated water in different departments of a company with UV irradiation and an overpressure system is used for each specific need. Thus, each consumer has water available and the pump only operates when necessary.
Plastic construction
Laundry, retention tanks, plastic installations, modification of existing installations …
Ventilation
Extraction of vapors on electroplating baths, chapels, laboratories, etc. in PP, PVC and PPS
Flue gas scrubber in PP
Works in PP, PVC and PPS
Towing
Any type of piping (PP, PE, PVC, PVDF)
Installations for special needs in the field of water treatment